​

​
​JAC Consulting Indonesia and OBDA are back with a business-matching event, a valuable opportunity for Indonesian companies and SMEs to collaborate with Osaka-based SMEs, expanding their networks and driving business growth in the country.
About Osaka-Indonesia Online Business Matching 2023
Osaka-Indonesia Online Business Matching is an exclusive business development event aimed at connecting SMEs based in Osaka, Japan and Indonesian companies to broaden global networking opportunities and develop trade partnerships.
As an expert in business entity set-up in Indonesia, JAC Consulting is ready to support the development of pre-expansion plans for companies in various industries in Osaka. We successfully connected more than 100 Indonesian business owners to companies in Osaka in over 150 meetings earlier this year and are returning to repeat this success and offer the same chance to build business with different entities.
A dedicated translator and interpreter will accompany all participants during the event to facilitate effective communication ensuring seamless discussions and interactions.
Date: Mon-Fri 25th-29th September 2023

Place: Zoom meeting

Free registration
​Organiser
JAC Consulting: JAC Consulting provides expert business solutions to support local and multinational companies looking for expansion opportunities within the Indonesian market.

Osaka Business Development Agency (OBDA): OBDA is a public interest foundation that works closely with the Osaka Prefectural Government and the City of Osaka to promote international business promotion.
​Recommended for:
Indonesian companies and SMEs planning to expand their business in the country and establish partnerships with companies in Osaka.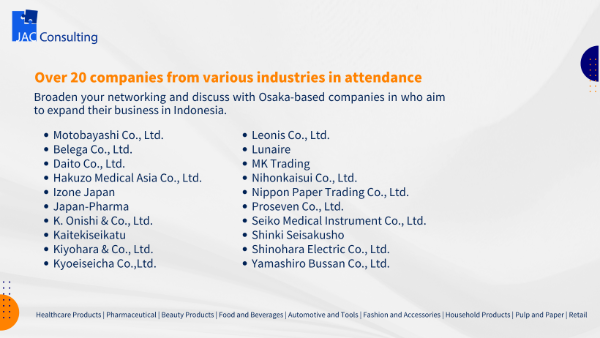 ​
​Should you have any questions, please feel free to contact us:
Eka +62 877-4145-6595
Soraya +62 812-1557-8191
​