Latest Indonesian Workforce Regulation
Win-win Strategies for Employee Contract Termination
​​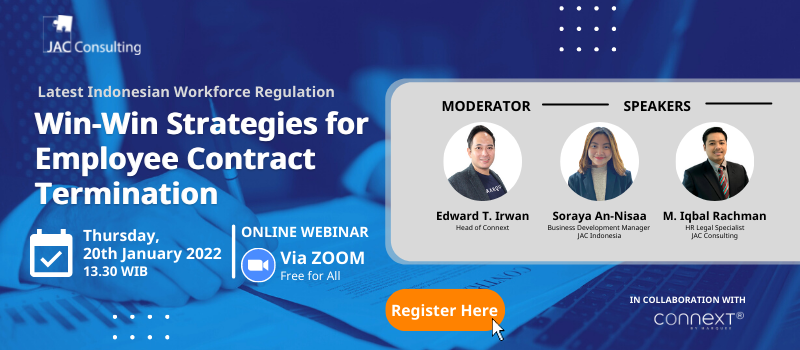 ​
Business activity restrictions during the COVID-19 pandemic have significantly impacted the Manpower field, as many decided to downsize the organization by reducing the number of employees. This decision leads to numerous disputes when either side is disadvantaged due to the lack of understanding and strategy when performing the termination.
JAC Consulting is collaborating with Connext by Marquee to proudly present a Free Webinar to thoroughly discuss the proper mechanism of employee termination based on the applicable workforce regulations in Indonesia, such as industrial relation disputes and settlements. This webinar aims to enrich the knowledge of HR practitioners, a company, and the workers to avoid any disadvantage of the wrong conduct of employee terminations.
Date: Thursday, January 20th, 2022

Time : 1.30pm–2.30pm

Language: Bahasa Indonesia
Meet the Speakers
Soraya An-Nisaa
Business Development Manager of JAC Indonesia: JAC Recruitment, JAC Consulting, and JAC Business Center.
Soraya is an expert in Foreign Direct Investment (FDI) registration, providing professional advice on navigating through daily regulatory hurdles of business set-up, expatriate visas, and legal and HR complexities. She just also graduated from Notarial Master Program from Universitas Indonesia. You will see her often in her monthly webinar program, advising Japanese and MNC companies to get the latest update of HR and expatriate policy and regulation.
M. Iqbal Rachman​
HR Legal Specialist Iqbal is an expert in human resources and industrial relations. He has professional experience assisting industrial and HR dispute settlement up to cassation on Supreme Court. He graduated from Airlangga University with a Master's Degree in Law and has years of experience in arranging many Company Regulation (PP), Collective Labor Agreement (PKB), and other related cases to Industrial Relation Court (PHI).
​